Updated on April 22, 2020
When we first published this article on April 14, 2020, there were 72 class action cases filed in the United States related to and directly referencing the global COVID-19 pandemic. That number has now nearly doubled to 124 cases and counting. A list of the cases we have compiled to date may be found here. More are being filed on a daily basis, and as businesses reel from the impact of closures, work-from-home plans, efforts to maintain employee safety, and an impending global recession, they also face the costly distraction of this unprecedented litigation.
Primary targets of the litigation include insurers of businesses who have suffered losses as a result of coronavirus lockdowns; the travel and entertainment industries, including cruise lines, airlines, and even Major League Baseball, state and federal detention facilities, and others described below.
Since 2012, in our annual Class Action Survey, Carlton Fields has asked in-house counsel at hundreds of companies across dozens of industries to predict the "next wave" of potential class action matters. Unfortunately, the 2020 wave is something no one predicted. The COVID-19 class action deluge began in early March, with David v. Vi-Jon, a California product labeling case against the manufacturer of Germ-X hand sanitizer. Plaintiffs in David allege that Germ-X is falsely marketed as killing viruses, including the novel coronavirus, and that consumers are misled into purchasing it. By March 13, the list of class actions filed had reached double digits – including a series of securities and negligence cases against the cruise line industry, and the first of several class actions filed against the People's Republic of China.
In the ensuing weeks, the floodgates have opened. Working remotely like the rest of us, no doubt, a well-financed and ambitious plaintiffs' class action bar has nevertheless seized upon an opportunity. The COVID-19 class litigation started on the West Coast, and it now covers the more active jurisdictions in the country, with the most cases pending in California (36), Florida (15), New York (10), and Illinois (9).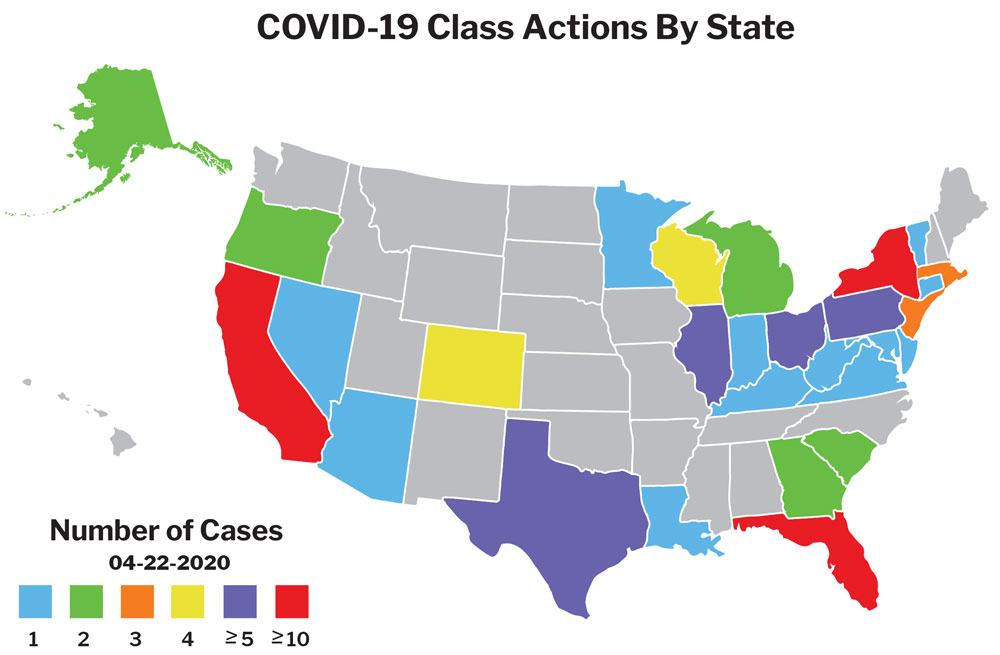 The cases can be categorized as follows:
Consumer

Product labeling/advertising cases related to hand sanitizers and potential treatments
Consumer privacy case against Zoom alleging that its videoconferencing program was not end-to-end encrypted, and user data was sold to third parties
Cases against gyms and fitness centers related to the failure to allow cancellations or provide refunds after closures
Similar cancellation/refund actions against airlines, ticketing agencies, and entertainment venues
Cruise line negligent and intentional tort cases related to failure to disclose the presence of the novel coronavirus to passengers
Price gouging

Financial Services

A West Virginia class action against a national bank seeks to force the bank to stop residential foreclosures statewide
A CARES Act case, alleging that a bank unfairly prioritized applicants for government-backed loans, favoring those who had a preexisting account relationship (note: on April 13, 2020, plaintiffs' TRO motion was denied)

Commercial Insurance Business Interruption Claims

First-party claims cases by businesses seeking business interruption coverage related to COVID-19 closures, even where coverage is limited to physical damage and/or excludes losses resulting from pandemics

Labor & Employment

Ride-share cases alleging that employees are misclassified as independent contractors under California law and should receive sick pay and related benefits
Cases related to unpaid wages and unlawful layoffs

Government

Prisoners' rights cases seeking testing, treatment, social distancing, and release
Actions by federal and state employees seeking hazard pay and COVID-19 accommodations for employees
Voting rights and takings clause cases filed by voters and small businesses against state governments
Cases filed against the Chinese government under various state common law negligent and intentional tort theories

Securities

Cruise line cases based on alleged misrepresentations related to the COVID-19 pandemic that impacted stock prices
Actions against Zoom, alleging that misrepresentations about the videoconferencing service's encryption capabilities impacted stock prices

Education

Cases against universities and property managers seeking refunds of tuition, room and board, and fees
In addition to COVID-19 actions, we have also observed an uptick in new class action filings generally. It appears that with trials continued, and motion hearings postponed in existing actions, plaintiffs' counsel are finalizing and filing new cases across industries on a variety of theories that are unrelated to the pandemic.
Companies should have their action plans in place to preempt and defend against this class action wave. Analyze changes in business practices caused by COVID-19, especially with respect to consumer-facing practices; examine areas of exposure; and take proactive steps before a case is filed. Adhere to your existing best practices and regulatory compliance. If a COVID-19 dispute arises, conduct an early case assessment, decide whether arbitration or early mediation is an option, consider jurisdictional arguments, and – of course – issue an appropriate litigation hold. This wave too shall pass.